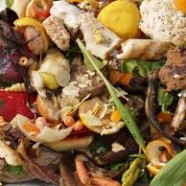 Press Release
Charlottesville, VA — January 5, 2016
On the heels of a successful composting pilot program at the 2015 City of Charlottesville Farmer's Market, Rivanna Solid Waste Authority will offer 3-month household compost drop-off service at the McIntire Recycling Center beginning January 6, 2016. City and County residents will be allowed to bring bagged compostable items (food waste and compostable household waste) during their normal hours of operation five days a week through March. Rivanna will provide bags free of charge for citizens who use the program, as household compostable wastes must be brought in compostable bags. No commercial food waste or yard waste will be accepted. For a full list of compostable acceptable and non-acceptable items, residents can check out the website: www.rivanna.org/composting.
Citizens approached Rivanna about providing this interim service in November concerned that composting services at the farmer's market "had no home" during the winter months. Rivanna's Executive Director, Tom Frederick, brought the issue to the Rivanna Board of Directors and they unanimously approved the 3-month initiative thereby increasing accessibility to composting in the Charlottesville and Albemarle area.
This initiative will help citizens, and together the community, keep valuable "green waste" out of landfill, which in turn reduces methane a potent greenhouse gas produced when food breaks down. Black Bear Composting, the regional commercial composting facility, reports that in just six months, food waste transforms into valuable compost for commercial and residential soil-amendments, top cover, soil remediation and other beneficial uses.
"We are very pleased to respond to citizen requests to offer the compost program while the City Farmer's Market takes its winter break," stated Mr. Tom Frederick, Executive Director for Rivanna. "It is invigorating to see community members desiring to maintain a good habit."
Kathy Galvin, Councilor for the City of Charlottesville and a member of the Rivanna Solid Waste Authority said, "Kudos to the people of Charlottesville and Albemarle who made composting a huge success at the Farmers' Market this past spring and fall. Because of you, the bins are back at the McIntire Recycling Center this winter.  Thank you for doing your part to reduce, reuse and recycle!"
Teri Kent, Communications Manager will be on hand to answer citizen questions and media inquiries on the first day of the initiative, Wednesday, January 6th from 10-noon at McIntire Recycling Center.
Rivanna Solid Waste Authority (RSWA) provides recycling, solid waste, hazardous waste disposal serves to over 3,000 city and county residents each month from our facilities at McIntire Recycling, Ivy Material Utilization Center (MUC), and the Paper Sort Facility on Meade Avenue.  RSWA is funded jointly by the City of Charlottesville and County of Albemarle and therefore provide services according to City and County budget allocations. Hours of Operation at the McIntire Recycling Center are Wednesday through Friday 8:30 a.m. to 5:20 p.m.; Saturday – 9:30 a.m. to 5:20 p.m.; and Sunday – 12:30 p.m. to 5:20 p.m. For this initiative N.O.P.E. will provide pick up services and Black Bear Composting will process the material at their commercial composting facility in Crimora, Virginia.