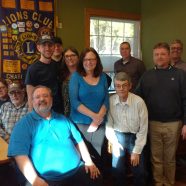 I had the pleasure of sitting down with our longest-tenured employee Assistant Water Manager, Randy Jones (shown in the blue shirt), earlier this month before his retirement from the Authority after 43 years. Since 1973 Randy has dedicated his career to providing our community with clean water.
Born and raised in Crozet, Virginia, Randy got his start in water rather by accident when his father suggested a job in water would be stable and always be in demand. That sounded good to him, especially with it being of service to the community; and he's never looked back! His father was the Director of Finance for the County of Albemarle at the time, and Randy knew he wanted to stay near family.
Randy is a warm-hearted man who reached the highest level of water operator (Class I) in 1977. He has seen and been through many changes in his tenure. It's hard to believe that when he started in the water business there were no regulations on turbidity, for example. The treatment process was very rudimentary by today's standards.
I had to ask: What was the scariest or most horrible thing that's happened? Though there have been some close calls over the years, nothing major to report (which of course is excellent), but he did say that though he's been through many storms and even a hurricane, the worst storm was the Derecho (a fastmoving complex of thunderstorms accompanied by high winds). Treatment plants were running on generators, but a big problem was being able to get the operators to work because of fallen trees.
What has been the best experience? In all earnestness he said serving the community the cleanest water possible day in and day out as a part of a team! He said when he started in the 70's and regulations starting coming they never thought they would be able to treat the water to such a high quality level (because of turbidity and various technical reasons), but with the technological advancements it has well exceeded his previous expectations of what is possible in water treatment.
I, for one, am so grateful to have Randy at the helm of the RWSA Water Treatment Plants, and the whole team thanks him for his 43 years of service. All the best to you in retirement.
Teri and the Rivanna staff