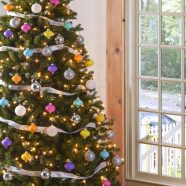 The Christmas Tree recycling program, run by the Albemarle County Parks and Rec Department, recycles discarded Christmas Trees. These trees are then chipped into mulch and offered to the public for free. The program has been in operation since 1988 and has collected an average of 2,300 trees annually, which yields over 110 cubic yards of wood chips. Combining forces with the "Charlottesville Curb Side Pick Up", the joint programs collected 4,200 trees, yielding 201 cubic yards of wood chips in 2016-2017. These services reduce the impact on our landfill and help citizens find a place to dispose of a large and cumbersome item.
This year the County will operate seven sites. The sites will be open from December 26, 2017 to January 15, 2018, from 7:00 AM until dark. The sites are:
Rivanna Solid Waste Authority Recycling Center on McIntire Road (Note: Sunday hours are 12:30 to 5:30 pm)*
Crozet Park in Crozet
Greenwood Community Center in Greenwood
Chris Greene Lake Park in Earlysville
Darden Towe Park on Elks Drive
Scottsville Community Center in Scottsville
Walnut Creek Park, off Old Lynchburg Road
*The recycling location on McIntire Rd may be congested please consider Darden Towe Park as an alternate location that is less congested and is suited better for large loads and contract haulers.
Charlottesville Curbside Pickup, run by the City Public Works Department, will be the week of January 8, 2018, trees need to be at the curb side by 7:00 AM. Shortly after the Curb Side Pick-up, the City and County Parks Crews will join forces and chip and estimated 2200 trees at Darden Towe Park.
Both Programs require that decorations, stands and nails be removed. Please no "yard waste".
Free mulch from the recycled trees will be available starting February 1, 2018 at Darden Towe Park.
Please contact Albemarle County Parks & Rec with any questions relating to tree drop-off or mulch pick-up: 434-296-5844