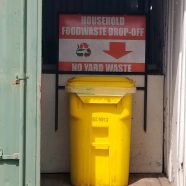 Composting of household food waste is now available at the Ivy Material Utilization Center. The food waste is collected by Black Bear Composting (BBC); they turn the collected food waste into compost at their commercial composting facility in Crimora, VA. BBC's services are contracted and paid for by RSWA.
This service is free to residents and is located in the Citizens Convenience Center area.
Businesses will be charged the $178 per ton composting tipping fee and will be required to drive over the scales into the Transfer Station.
Compostable food waste from households is accepted in compostable bags; complimentary bags are offered to users of this program at the Ivy MUC composting kiosk.
Composting at Ivy MUC Brochure
To learn more about composting at Ivy MUC or at McIntire Recycling Center, please visit: http://www.rivanna.org/composting/