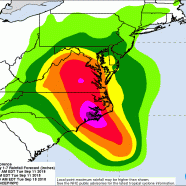 September 13, 2018
Due to the change in the projected path of Hurricane Florence and the lessened potential impact for the Charlottesville / Albemarle areas, the additional releases at the reservoirs have been stopped. Normal releases, in accordance with our State Permit, have resumed.
---
Charlottesville, VA — September 11, 2018
The Rivanna Water & Sewer Authority (RWSA) began releasing water from the Sugar Hollow, South Rivanna and Beaver Creek Reservoirs on Monday, September 10, 2018, in preparation for the significant amount of rainfall currently forecasted from Hurricane Florence.   By releasing water from the reservoirs in advance of the storm, additional water storage will be available when rainfall begins. An early release of water from Ragged Mountain and Totier Creek Reservoirs will not be needed due to the construction of those dams and spillways.  Motorists are reminded that Browns Gap Turnpike may be impassable if water should flow over the spillway at the Beaver Creek Reservoir. RWSA will be monitoring all of its reservoirs during this storm event as part of the Dam Safety Program.
As noted by RWSA Executive Director, Bill Mawyer, "Hurricane-level storms with significant wind speeds and rainfall can cause severe flooding, threaten our reservoirs, and impact our ability to produce drinking water.   Our staff and facilities are prepared for the storm, and we will do our best to maintain water and wastewater treatment services throughout the event.  However, public drinking water customers are encouraged to have a three-day supply of water on hand in case water services are temporarily interrupted."
Click here for the Press Release