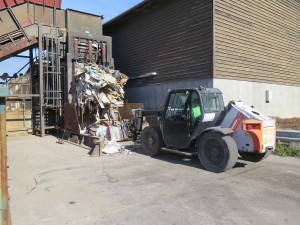 Changes are coming to Ivy Material Utilization Center!
After a November 2015 Albemarle County Board of Supervisors' decision to build a new Ivy Transfer Station, Rivanna Solid Waste Authority Board of Directors approved SCS Engineering to design the new transfer station. The new transfer station is designed to meet all current regulatory requirements for solid waste handling, maximize the existing infrastructure, improve traffic flow, and potentially expand recycling services, while retaining existing services, including "tag-a-bag" household waste disposal, mulching, and special collections of hazardous waste and bulky items. The new enclosed facility will be located on the western portion of the site and will continue to use the existing entrance and scales. Find more information about this project, including public outreach and email sign up for interested citizens at Albemarle County's website.
Community Meeting held in September 2016
Rivanna Solid Waste Authority with Albemarle County presented information to the public about the final design of the new Ivy Transfer Station on September 29th, 2016 at Murray Elementary School Media Center 3251 Morgantown Rd, Charlottesville, VA 22903. For information about any upcoming community meetings on this project go to Albemarle County's event page.
Timeline
Preliminary design completed January 2017.
Accepted construction bids August 3rd, 2017.
Received approval for Albemarle County site plan and water protection ordinance permit August 8, 2017.
Board approval of construction award September 2017.
Construction begins November 2017.
Project completion December 2018.
Additional Information
See floor plan and proposed traffic flow below: