The Rivanna Solid Waste Authority (RSWA) is committed to providing the recycling, solid waste, hazardous waste disposal services to 3,000 city and county residents every month. These services are provided at the request of the City of Charlottesville and Albemarle County. Thanks to citizen recyclers and our method of source-separated bins at McIntire, we are able to achieve over 98% recycling rate with little or no contamination!
And as a public agency, we provide complete information to the public regarding both how and where the materials are recycled. Whether you utilize Rivanna's tagbag program, participate in the City of Charlottesville's programs, use one of Albemarle County's many private haulers, or take your recyclables to McIntire yourself, we thank you for doing your part to be a good environmental steward. Rivanna offsets some of its operating costs for area recycling with the money earned from the sale of recyclable materials from the Ivy Material Utilization Center and McIntire Center, and the County and City have agreed to cover the additional costs. In FY 2016, we recycled 3,514 tons of materials!
Ivy Material Utilization Center (MUC)
Our facilities and hours of operation
RSWA operates three facilities in Charlottesville/Albemarle County
McIntire Recycling Hours:
Wed-Fri 8:30am-5:20pm
Sat 9:30am-5:20pm
Sun 12:30pm-5:20pm
Ivy MUC Hours:
Tues-Fri 7:30am-4pm
Sat 8:30am-4pm
Paper Sort Facility Hours:
Monday through Friday
7:30am-3:45pm
Disposal Charges
Disposal Charges can be found by clicking on the location above or by going to our Service and Fees webpage.
Daily Paint Collection at Ivy MUC
Ivy Materials Utilization Center (MUC) offers paint collection on a daily basis in order to better serve our customers' needs and eliminate long lines at our Fall and Spring Household Hazardous Waste days.  The RSWA board approved this change and we began accepting paint August 2016.  Note: due to traffic and staffing during our Household Hazardous Waste Days, patrons with paint only will be routed through the Household Hazardous Waste lanes.  Paint brought on normal operation days will check in with the scale house and be directed over to the tipping floor area for disposal. For full details go to our Paint Collection page. To stay connected about this program and our Fall and Spring Household Hazardous Waste and Bulky Waste Amnesty Days, sign up for our HHW notification email list by clicking here.
**NEW** Household Food Waste Compost Drop-Off
Get the details of this temporary (approved through FY 2016) composting initiative at our Composting at McIntire page
Spring and Fall Household Hazardous Waste Days and Bulky Waste Amnesty Days
Every year we hold Spring and Fall Household Hazardous Waste and Bulky Waste Amnesty Days at our Ivy MUC facility for Albemarle County, City of Charlottesville, and Town of Scottsville residents. We urge folks to take advantage of this free opportunity to dispose/recycle unwanted or broken items. RSWA is grateful to all citizens who participate for your part in making our environment safer and cleaner. Find out more here: HHW and Bulky Waste Amnesty page.
City of Charlottesville Trash Disposal Guidelines
The City of Charlottesville provides refuse collection through the purchase of trash stickers as well as curbside pickup of most recyclable items. Program includes free collection of certain recyclable material curbside in bins. For guidelines on this service, go to the City of Charlottesville Trash page
For more information on the City of Charlottesville's Solid Waste Management Program call 970-3830.
Albemarle County residents
Albemarle County does not provide waste collection services for its citizens. Each county resident must either dispose of their waste themselves; use Rivanna's Ivy MUC or McIntire Recycling; or contract with a private waste disposal hauler of their choice. For more information, please visit the Albemarle County website or call Albemarle County at 296-5816 for more information.
Want more recycling services?
RSWA only provides the specific services that are requested by the City and/or the County, so for requests for additions or changes to current services we suggest that City residents contact their City Council members (council@charlottesville.org) and County residents contact their Board of Supervisors (bos@albemarle.org).RSWA would like to hear about comments or suggestions with regard to our current programs by emailing the RSWA board members (rswaboardmembers@rivanna.org) or by calling our main line at (434) 977-2970.
Brief History of RSWA
The RSWA was initially formed in 1990 by the County of Albemarle and City of Charlottesville to operate the Ivy Landfill in Albemarle County and to set regional policy, through a Board of Directors for managing all solid waste generated from within the jurisdictions of the County and City through principals of reduce, reuse, recycling, and disposal. In 1998, the Ivy Landfill closed to municipal solid waste and 2001 closed to all waste, and over time the City and the County created different policies and selected different options for handling their waste and recycling.
Today the RSWA's role is limited to that of a contract agent, providing only those specific programs in which the County, City, or both local governments choose to contract with the RSWA, including providing financial support as appropriate.  Today, most solid waste that is generated within the jurisdictions of the County and City is managed by private sector companies.
Recycling FAQs
Meet Your Recycler
To report litter in Albemarle County, call the Litter Hotline Number at 434-972-4145. In the City of Charlottesville, call Charlottesville Public Service Dept. at 434-970-3830.

##Press Release## Spring 2017 Special Waste Collection Dates Announced For Immediate Release Charlottesville, VA—January 12, 2017. Rivanna Solid Waste Authority will host its spring special collections dates for household hazardous waste, commercial hazardous waste, and bulky waste amnesty days for Charlottesville, Scottsville, and Albemarle County residents and businesses beginning April 27th at the Ivy Materials Utilization Center (MUC). This event is brought to the community with support from the City of Charlottesville and the County of...
read more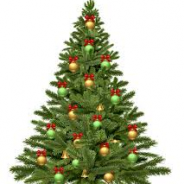 The following information was provided to us by Matthew Smith, Superintendent of Parks at Albemarle County.  Thanks, Matt! 2016-2017 County Parks Christmas Tree Recycling Program is a program that recycles discarded Christmas Trees that are chipped into mulch and offered to the public for free. The County will operate seven sites. The sites will be open from December 26, 2016 to January 16, 2017. The hours will be 7:00 AM until dark daily. The sites are: Rivanna Solid Waste Authority Recycling Center on McIntire Road (Note: Sunday hours are...
read more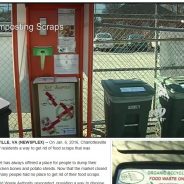 "Thank you! Wonderful. Keep It Going." — area resident We've received nothing but positive comments like that one from area residents about our food waste collection at McIntire Recycling Center and so we are glad to report that our Board of Directors approved an extension of the program through the end of June 2017 (end of our fiscal year)!  From January through October we have received a total of 14.4 tons food waste at McIntire, averaging about 1.4 tons per month, coming from nearly 400 cart pick-ups.  As a part of...
read more
Die-hard recyclers and second-hand aficionados are regulars at our Ivy MUC Encore Shop– a treasure trove of goods. But for those of you who may not be familiar, we thought we should highlight this program and some of the interesting items we've seen come and go over the years! From candle-holders to couches, from bikes to boats, from patio furniture to paintings and everything in between, the Encore Shop has a revolving inventory of used goods located at our Ivy MUC (formerly Ivy landfill) location for sale at reasonable prices. For the...
read more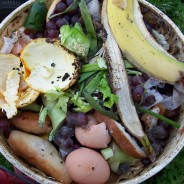 Good news for area composters. Composting will not ending this Sunday, but will continue for the remainder of the calendar year. The RSWA board voted unanimously on Tuesday to extend the composting pilot program through the end of 2016. The topic will come to the RSWA board again in August where data will be shared and a larger discussion about the future of the program will ensue. Between January 6th and April 1st the pilot program collected a total of 2.92 tons of food waste averaging about a ton of food waste per month....
read more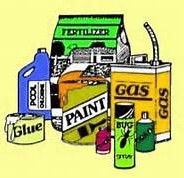 Springtime is here, which means many of us are cleaning our nests garages of those harmful products like pesticides, paint, and other chemicals that are not safe for our trash cans.  So twice a year, Rivanna Solid Waste Authority hosts Commercial and Household Hazardous Waste Days, along with Amnesty Days for large items like mattresses and appliances.  We hope you take advantage of this opportunity to keep our environment safe and clean. Household Hazardous Waste Days Friday, April 1, 2016:   2:00 pm to 6:00 pm Saturday, April 2,...
read more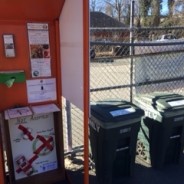 Charlottesville and Albemarle residents are all abuzz over the expanded composting services in the community. In the first week of the new program, Rivanna's McIntire Recycling Center collected 150 lbs of food waste and household compostables in five days!  NOPE, our pick-up hauler, also reported that only one item was found in the bins that was not allowable and that was a plastic bag.  We urge everyone to remember to use compostable bags.  The 3-gallon compostable bags ("Biobag" is the brand name) can be found at the...
read more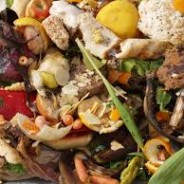 Press Release Charlottesville, VA — January 5, 2016 On the heels of a successful composting pilot program at the 2015 City of Charlottesville Farmer's Market, Rivanna Solid Waste Authority will offer 3-month household compost drop-off service at the McIntire Recycling Center beginning January 6, 2016. City and County residents will be allowed to bring bagged compostable items (food waste and compostable household waste) during their normal hours of operation five days a week through March. Rivanna will provide bags free of charge for...
read more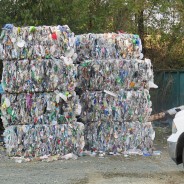 Starting July 1, 2015 we have streamlined plastics recycling into just TWO BINS: rigid plastics and flexible plastics. Plastic bottles and containers are #1-#7 rigid plastics (water bottles, jars, cups, storage containers, and more). It is no longer necessary to separate #1s and #2s. Just what is flexible plastic or plastic film? Plastic bags and wraps are the soft, flexible polyethylene plastic used in many grocery, bread, zip-top & dry cleaning bags. It's also used in packaging paper plates, bathroom tissue, diapers, etc. Thanks...
read more