In 2014, we enlisted DiNatale Water Consultants to study our water storage reservoirs as part of an effort to protect and improve the water quality.
Starting in 2015 and continuing into 2016, we have been collecting reservoir samples and taking an in-depth look at each of our drinking water sources. We want to better understand the unique characteristics of each of them and what we can do to stay ahead of water quality issues like algae growth.
Now we are ready to share our preliminary findings! We invite you to take a look and learn more about the source of your drinking water.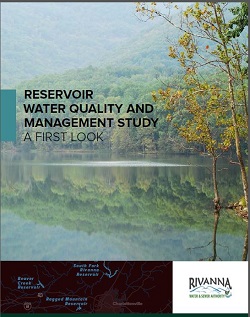 Click the above image of our Reservoir Water Quality and Management Study: "A First Look" pamphlet to learn:
Reservoir Biology 101
Where your water comes from
The unique "personalities" of each of our reservoirs
How algae grows in lakes
Sources of nutrients in the watershed
But we're not done yet.
Additional water quality data and recommendations will be available in 2017. With more data and analysis, the final report is expected to clarify our options for addressing methods to improve raw water quality.
With this preliminary report and our final report in 2017, Rivanna's goal is to:
Continue the delivery of high quality drinking water
Safeguard our reservoirs now and for the future
Refine and affirm the rigorous water quality and algal monitoring program we have implemented
Identify methods that help in the development of biologically healthier watersheds and reservoirs
Utilize eco-friendly lake management practices where practicable
We are committed to providing the high quality drinking water to our customers– Charlottesville and the Albemarle County Service Authority– which starts with the management of our raw water resources that supply our treatment facilities. This study is a testament to that commitment.
To view the full 238-page Reservoir Water Quality and Management Assessment Phase 1 in pdf format, click here
To view the "A First Look" pamphlet in pdf format, click here
To view Rivanna's Algal Management Program, click here