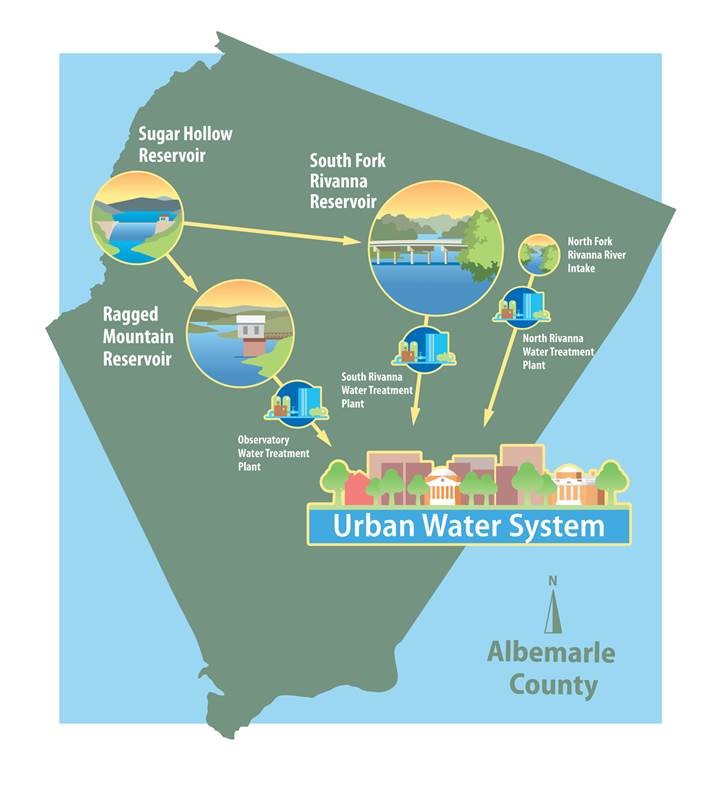 Water is essential for everything we do in life.  We need water to brush teeth, make coffee, fight fires, and even build bridges.  From agriculture to manufacturing to our day-to-day lives, without water we simply would not survive and our economy would grind to a halt.
Everyone knows that nature supplies water, but how does it actually get to our homes here in Charlottesville?
Rivanna Water and Sewer Authority has five reservoirs which store water for use. The three that serve the urban area are Sugar Hollow, South Rivanna, and the newly expanded Ragged Mountain Reservoir.  The two which serve the rural area: Totier Creek in Scottsville, and Beaver Creek in Crozet.
From Nature's source (otherwise known as the watershed), water flows into our treatment plants and from there undergoes a multi-step process to treat the water so that it can be used for drinking, manufacturing, fighting fires and other essential uses.  Rivanna bookends this process: we supply water to Albemarle County Service Authority and the City of Charlottesville Public Works department, our two water retailers. After the water is used, we treat the resulting wastewater so that it can safely return to the rivers and eventually the Chesapeake Bay.
More about the water treatment process.
Helpful Links
More about the wasterwater treatment process
More about watershed protection
Visit our "Meet your Water Operator" page
Find out about Recreation in and around Reservoirs
Graphic designer for Urban Water System: Michael Powers