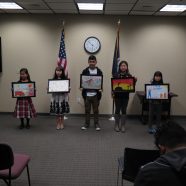 The Albemarle County Service Authority, the City of Charlottesville Public Works, and Rivanna Water and Sewer Authority celebrated the winners of the 2016 Imagine a Day Without Water contest Tuesday evening at ACSA's offices on Spotnap Road. The student winners were:
1

st

– 2

nd

Grade: Sarah Ni, Baker-Butler Elementary, Grade 2
3

rd

– 4

th

Grade: Jingui Li, Hollymead Elementary, Grade 4
5

th

– 6

th

Grade: Olivia Kim, Hollymead Elementary, Grade 5
7

th

– 8

th

Grade: Marco Lopez, Buford Middle School, Grade 8
Fan Favorite: Shilu DeBerry, Brownsville Elementary, Grade 4
The teacher winners were: Kelly Ewing from Agnor-Hurt Elementary School, Desmond Cormier from Buford Middle School, Tamara Murray from Charlottesville Day School, and John Russell from St. Anne's Belfield School.
The winners received $200 gift cards and a bag of water conversation goodies and a t-shirt!  Congratulations everyone.
Check out our earlier blog post for more details.