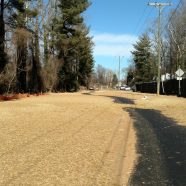 PRESS RELEASE
Now that Rivanna Water & Sewer Authority (RWSA) contractors have successfully completed 1,300 feet of sewer pipe replacement along the Schenk's Greenway, Charlottesville City Parks and Recreation has reopened the trail for multi-use recreation. Full landscaping of flower beds and tree plantings will be completed this fall in order to take advantage of prime planting weather.
Replacing RWSA's sewer pipe will help maintain adequate capacity for future wastewater system needs generated from the City.  The former 21'' pipe installed in the 50's has been replaced by a 30" pipe.
"We are pleased to have completed this third phase [of four] of an extensive sewer system infrastructure upgrade that began with portions of our Meadowcreek Interceptor project," Scott Schiller, Senior Civil Engineer from Rivanna Water and Sewer Authority said.
The Schenk's Greenway trail connects to the John Warner Parkway trail to the north into McIntire Park and is proposed to eventually connect to Preston Avenue on the south end. Additionally, the soapstone sculpture "Oasis" by local artist David Breeden has been added to the Greenway, donated to the City by Landmark Properties and relocated from its former site at Republic Plaza on West Main Street.
The next and final phase of RWSA's sewer upgrades should not significantly impact the Schenk's greenway trail in the future.
About RWSA
Rivanna Water and Sewer's mission is to ensure adequate water supply for now and in the future while protecting the natural environment. As the wholesale provider of clean, safe, high-quality drinking water, we serve the City of Charlottesville and Albemarle County Service Authority's over 110,000 customers. RWSA then treats the wastewater, so it can safely return to the aquatic environment of the Rivanna River and eventually the Chesapeake Bay.
About Charlottesville Parks and Recreation
Charlottesville Parks and Recreation's mission is to enhance the quality of life for all through the stewardship of public land and parks and provide quality recreational experiences.
PRESS RELEASE CONTACT:
Teri Kent
Communications Manager
Rivanna Water & Sewer Authority
(434) 977-2970 Ext. 101
or
Miriam Dickler
Director of Communications
Charlottesville City
(434) 970-3129