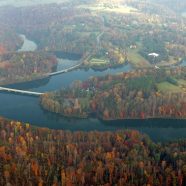 "To know it is to love it" is this year's theme for National Drinking Water Week (May 7th-13th). So Rivanna Water and Sewer Authority (RWSA) invites the local community to visit the Ivy Creek Natural Area on Wednesday, May 10th from 11:30-1pm to learn about the people and process behind your glass of drinking water – water's journey from the reservoir to the tap and back to the Rivanna River.
RWSA will have Water Resources Manager, Andrea Terry, and Communications Manager, Teri Kent, on hand to answer questions at an information table.
As a part of this "Meet Your Reservoir" campaign, informational flyers about the "personality" of each reservoir have been deployed at the five reservoir sites: Sugar Hollow, Beaver Creek, Totier Creek, Ragged Mountain, and South Rivanna (this flyer container is located at Ivy Creek Natural Area).
"It's easy to take for granted our high-quality drinking water," said Bill Mawyer, the new Executive Director at RWSA. "So this week we encourage folks to take time to visit a local reservoir and think for a moment about how fortunate we are to have such bountiful raw water sources."
[Press release published 5/8/17]