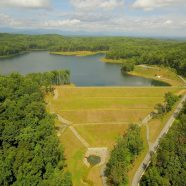 Charlottesville, VA— This press release was issued on Tuesday, May 30, 2017
All five of our reservoirs (Ragged Mountain, Sugar Hollow, and South Rivanna, Beaver Creek, and Totier Creek) have reached 100% of their maximum useable capacity for a total of 3.3 billion gallons of water, which is a good spring milestone in terms of drinking water supply.
Thanks to an extensive water supply planning effort and a steady round of springtime rains, a plentiful water supply for our community's drinking water needs has been attained. The 50-year community water supply planning process, which led to the expansion of Ragged Mountain Reservoir, was a multi-stakeholder collaboration involving local water leaders, elected officials, teams of engineers and construction crews, and citizens.
"This is great news for our community as we head into the typically hot and dry summer months," said Bill Mawyer, Executive Director.
About RWSA: Rivanna Water and Sewer Authority's mission is to ensure adequate water supply for now and in the future while protecting the natural environment. RWSA is a wholesale provider of clean, safe, high-quality drinking water serving the City of Charlottesville and the Albemarle County Service Authority's over 110,000 customers. RWSA then treats wastewater, so it can safely return to the aquatic environment of the Rivanna River and eventually the Chesapeake Bay.
Contact: Teri Kent, Communications Manager, Rivanna Water and Sewer Authority, 434-977-2970 ext 101