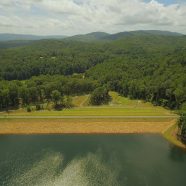 RWSA DROUGHT STATUS & MANDATORY RESTRICTIONS UPDATE
Charlottesville, VA—October 31, 2017
Due to the recent rain, substantial gains have been made in the water level of the South Fork Rivanna Reservoir.  About 200 million gallons were added to the reservoir from October 28 – 31, 2017, as storage increased from 69% to 95% of reservoir capacity.   The water level is currently only 0.5 feet below the top of the spillway.
While we are very pleased with this increase, we will continue to coordinate with the Virginia Department of Environmental Quality (VDEQ) to monitor the reservoir level and drought management measures.  Our plan is to continue mandatory water restrictions and reduction of the minimum instream release until high water levels have been sustained in the reservoir for an extended period.  VDEQ indicates the forecast is for an abnormally dry winter.
A Public Notice of an Environmental Permit will be published in the Daily Progress on Wednesday, November 1, 2017. The purpose of the notice is to seek public comment on a variance requested by RWSA from the VDEQ that allows reduced minimum instream flows required by our permit, to address a public water supply emergency due to drought in the Charlottesville / Albemarle County area. The comment period is open for 30 days following the posting of the notice.
Additionally, RWSA will begin to transfer water from the Sugar Hollow Reservoir to the Ragged Mountain Reservoir on November 1, 2017.   This transfer of about 4 million gallons per day is to increase the water level in the Ragged Mountain Reservoir by about 350 million gallons to full capacity of 1.5 billion gallons.   The transfer of water is expected to continue for about 6 months.
PRESS RELEASE CONTACT:
Mr. Bill Mawyer
Executive Director
Rivanna Water & Sewer Authority
(434) 977-2970 Ext. 103