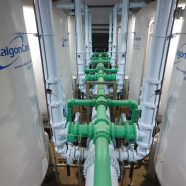 ##PRESS RELEASE##
NEW DRINKING WATER TREATMENT SYSTEMS GO LIVE
For Immediate Release
Charlottesville, VA—April 24, 2018
As part of our mission to provide clean, safe, high-quality drinking water to the City of Charlottesville and Albemarle County Service Authority, we have completed construction of a new Granular Activated Carbon (GAC) water treatment system at all five of our water treatment plants (South Rivanna, North Rivanna, Observatory, Crozet, and Scottsville). GAC is highly effective at removing a wide variety of organic materials and other select contaminants to further improve water quality. It is one of the leading means of improving water quality in the industry.
After extensive public input in 2012, the GAC system was selected as the preferred method to remove organic material during the water treatment process. Construction of the GAC systems began in 2015, and was recently completed for a total cost of $29 million. As the new GAC systems are going on-line at the water treatment plants, RWSA will host three ribbon cutting celebrations:
Please join us in celebrating this achievement.
About RWSA
Rivanna Water and Sewer Authority's mission is to ensure adequate water supply for now and in the future while protecting the natural environment.  As the wholesale provider of clean, safe, high-quality drinking water, we serve the City of Charlottesville and Albemarle County Service Authority's over 110,000 customers. RWSA then treats the wastewater, so it can safely return to the aquatic environment of the Rivanna River and eventually the Chesapeake Bay. For more information, please visit: www.rivanna.org