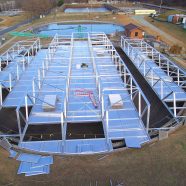 The Community Event to celebrate the Odor Control Reduction project completion has been moved to Wednesday, May 23, 2018 at 12:00 pm due to impending inclement weather.
## ORIGINAL PRESS RELEASE: MAY 10, 2018##
COMMUNITY EVENT TO CELEBRATE ODOR REDUCTIONS
For Immediate Release
Charlottesville, VA—May 10, 2018
With almost 10 million gallons of wastewater being treated each day at the Moores Creek Advanced Water Resource Recovery Facility, located near the Woolen Mills neighborhood, controlling the odors associated with normal operations became increasingly necessary. Therefore, in 2015, Rivanna Water and Sewer Authority (RWSA) began an extensive $10 million construction project to reduce odors. This multi-faceted effort included eliminating and covering sources of the odors, as well as installation of an air scrubber facility, all to minimize odors from the treatment facility.
The project was completed in April 2018 and odors have been effectively reduced. So, in conjunction with National Infrastructure Week, RWSA is celebrating this improvement to our area with a community picnic to be held at Riverview Park located at 298 Riverside Ave, Charlottesville VA 22902. The picnic will be held at 12:00 pm on Thursday May 17, 2018.
Please join us in celebrating this enhancement to the community.
To view the invitation, please click here.
For more information about the Odor Control Project, please visit: https://www.rivanna.org/odor-control-project/