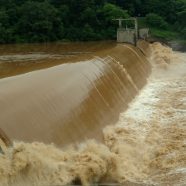 Update: 6-4-2018
Update: 6-1-2018
All dams remain safe.
Water has been restored to all ACSA customers.
The process to refill Piney Mountain Tank continues; it is currently at about 17.5 feet.
The water line break near Dickerson and Airport Roads has been repaired.
A second water line break has been located between the North Rivanna Water Treatment Plant and Route 29. RWSA Staff is working to develop and implement the repair plan.
The "boil water" notice continues to remain in affect, as a precaution, to all affected customers. ACSA will continue to test and monitor the situation with the guidance of the Virginia Department of Health and will list the restriction as soon as possible.
ACSA will continue to update its customers via its Facebook page and webpage.
Status : 5-31-18
South Rivanna Area
At 1:45 am this morning, approximately 7.1 feet of water was flowing over the South Rivanna Reservoir; about 26 billion gallons per day.
Rivanna Water and Sewer Authority initiated the Emergency Action Plan as required by State and Federal Dam Safety Agencies and notified Emergency Management Agencies.
As of 12:30 pm, the water had slowed and about 3.2 feet was flowing over the dam.
RWSA Engineers are inspecting all dams for possible damages; at this point no damages have been observed.
For public safety, the area around all dams and the boat ramp at the South Rivanna Reservoir has been closed.
North Rivanna Area
At 4:45 am this morning, the water storage level at the Piney Mountain Tank declined from 24 feet to 12 feet, indicating a water line break in the system.
As of 12:30 pm, there was about 10.5 feet remaining, which will provide water for the next 24 hours.
Rivanna Water & Sewer Authority and Albemarle County Service Authority Staff are working to test and refill the water distribution system.
At this time, the ACSA has issued a "boil water" notice until further notice and asks all customers, in the affected area, to conserve water as much as possible.
Click here for the presentation give at today's Press Conference.