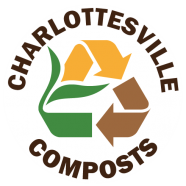 Happy Summertime, C'ville!
Thank you to everyone who contributed to our composting program last season! Together, we were able to divert 8.48 tons of food waste from landfills, reducing the amount of emissions equivalent to nearly 20 cars in morning traffic!* This spring, lets continue to make Charlottesville, A Green City.
Updates in the email below include:
Two Compost Drop-Off Locations are open!
Do you love composting and the City Market? Sign up to volunteer at the Saturday market drop-off!
New Sticker Designs: Help us select some new designs to spread the word about composting in Charlottesville!
To sign up for the Cville Composting newsletter, visit this site.
---
Composting at the City Market is Back!
WHAT TO COMPOST
Fruits & Vegetables   –   Nuts   –   Grains & Rice   –   Egg Shells   –    Flowers      Coffee Grounds & Filters   –   Meat & Bones – Fats, Cooking Oils, & Greases   –  Milk & Yogurt  –  Uncoated Paper (napkins/towels)   –   Certified Compostable Packaging
Drop-Off Service: Saturdays, 7AM-12PM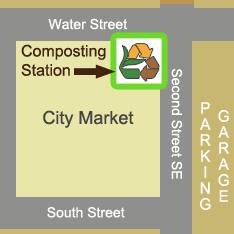 ---
Calling All Compost Enthusiasts!
We're seeking volunteers to help us on Saturday mornings from April through October.
Volunteer shifts are 2 hours each, with up to 3 volunteers per shift. In addition, to express our gratitude for helping green the City Market, you'll have your choice of $5 token good toward purchases at the City Market or 3 gallons of finished Black Bear Compost.
Volunteer tasks will vary but could include:
Setting up/taking down stations
Monitoring waste stations
Interacting with market patrons and vendors
Answering questions about composting
Assisting with data tracking
Click here to complete the Volunteer Registration
---
Help Our Outreach Messaging!
We're trying out some ideas for new stickers and would love your help selecting which ones are keepers. We're looking for feedback by Sunday, June 10. Please take a peak at our draft ideas, share some suggestions, and let us know which messages you'd like to see helping to spread the word about composting!
Click here to view the sticker drafts and vote!
---
Composting at McIntire
Monday 8:30am-5:30pm
Tuesday – CLOSED
Wed-Sun 8:30am-5:30pm
---

(All information contained in this post is sourced from the City of Charlottesville – Composting Newsletter, June 6, 2018)