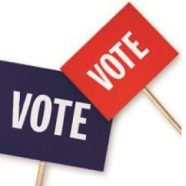 The election is (almost) over, but the signs will remain. So, now what?
Don't throw the signs away, instead take them to McIntire Recycling Center!
To recycle the signs, remove the metal stand from the sign.
Thin plastic signs (Poly-bag signs) can be deposited into the Plastic Film bin.

Thick plastic signs (that resemble corrugated cardboard) cannot be recycled

Paper signs can be deposited into the Mixed Brown Paper bin.
Metal stands can be deposited into the Mixed Metals bin.
If you have any questions, please ask the attendant on duty.
Signs can be recycled during normal business hours:
Mon 8:30-5:30pm
Tues CLOSED
Wed-Sun 8:30am-5:30pm
Please note: This program does not seek to take campaign sign clean up responsibilities away from prospective candidates. Instead, this is intended to provide candidates and residents with recycling information and drop off points so that signs can be recycled instead of thrown in the trash.