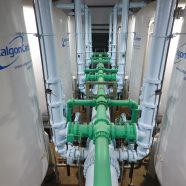 A year after the first Granular Activated Carbon (GAC) filter went into operation as part of the drinking water treatment system for the Charlottesville/Albemarle area, the Rivanna Water and Sewer Authority would like to celebrate its success.
The road to install GAC contactors at our five largest water treatment plants has been a long one. In 2006, the US Environmental Protection Agency (EPA) updated regulations related to disinfection byproducts (DBPs) in drinking water, making the removal requirements more stringent. DBPs can form when chemicals used to disinfect our drinking water, such as chlorine, react with naturally present, organic compounds in our raw water, such as leaves and algae. In order to comply with the new EPA regulations, RWSA needed to upgrade the way drinking water was treated. After extensive public input in 2012, the GAC system was selected as the preferred method to remove DBPs created during the water treatment process. Construction of the GAC systems began in 2015 and was completed in 2018 for a total cost of $29 million.
Bill Mawyer, Executive Director of the Rivanna Water and Sewer Authority said "We are very pleased to have the new Granular Activated Carbon filtering system as an additional component in our multi-barrier drinking water treatment system.     This leading edge technology helps us to remove many known and emerging contaminants as we produce over nine millions of gallons of high quality drinking water for the Charlottesville/ Albemarle community each day."
Rivanna actively monitors each GAC system; collecting and analyzing over 550 water samples each month. Two classes of DBPs that Rivanna tests for are haloacetic acids (HAAs) and Trihalomethanes (THMs). Over the last year of monitoring, there has been a significant decrease in DBPs at the five water treatment plants where GAC is installed.
The chart below shows the total reduction in DBPs over the past year at the South Rivanna Water Treatment Plant, and is representative of how effective the GAC system is at removing organic material and the resulting DBPs, from the water. As shown by the chart, when we compare THM levels in February 2018, before we began using the GAC filter, to February 2019 after the GAC filters were placed in operation, the THM level was reduced from 39 to 22 parts per billion (ppb), a 44% reduction. Over the same period, the HAA level was reduced from 35 to 10 ppb, a 71% reduction.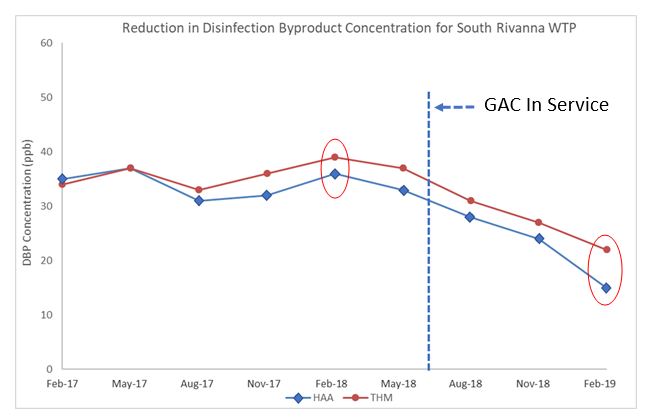 The benefits of GAC do not stop there, more recently EPA investigations of emerging manmade contaminants called per- and polyfluoroalkyl substances (PFAS), indicate GAC filters also remove these contaminants. RWSA has tested raw water from our reservoirs and has not found the presence of any PFAS. However, were this to become an issue for our area, we are equipped to remove emerging contaminants to ensure the continued quality of our drinking water.
We would like to invite the public to see our GAC system in action. We will host an Open House at the South Rivanna Water Treatment Plant (2385 Woodburn Road, Charlottesville VA 22901) on May 9, 2019. Tours will be offered between 10:00 am and 12:00 pm.