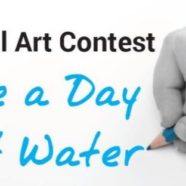 The City of Charlottesville, Albemarle County Service Authority, and Rivanna Water and Sewer Authority held an art contest open to all Charlottesville City and Albemarle County students in Grades K – 12. Students were asked to show how they ONLY USE WHAT THEY NEED as part of a national campaign to bring attention to the value of water.
We need YOU to help us select a FAN FAVORITE art poster by voting for your favorite at this link! The art poster with the most votes wins!
Don't forget to tell your friends and family to VOTE too! You can easily SHARE your favorite on your social media platform. #ValueWater
Fan Favorite Voting Closes: Wednesday, November 20th, 11:59 pm ET Note: You may only vote ONCE, so please look through all 40 entries before voting.
Winners will be Announced: Friday, November 22nd afternoon via press release and social media.
We had over 300 entries to the 2019 Imagine a Day without Water Student Art Contest! We had judges represented from the City, ACSA, and RWSA; the judges determined the top 40 entries spanning all grade divisions (top 10 from each division) to be considered for the fan favorite category. *Note- There were zero entries in the 9th – 12th grade division.
Awards Recognition: We have yet to set a date, but it will be in December and go from 5:30 – 6:30pm at the Albemarle County Service Authority's Board Room located at 168 Spotnap Road.
The event is open to the public and there is public parking available at the event location. Awards and recognition will be given out to the winners from each grade category, the fan favorite, and the randomly selected teacher winners.
Please note artwork was scanned and may not depict all the details of the artwork as originally submitted.
All entries are labeled with a unique five-digit ID number and the grade of the student. Uploaded entry order and ID numbers were assigned at random and do not convey any particular order.
Additional questions or comments can be sent to: waterconservation@charlottesville.org