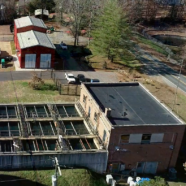 with Approval from Virginia Department of Health, RWSA to Upgrade Corrosion Control to Improve Protection of Water Pipes and Plumbing Fixtures
Beginning in December, the Rivanna Water and Sewer Authority (RWSA), in partnership with the Albemarle County Service Authority and the Charlottesville Utilities Department, will improve the area's already high-quality public drinking water treatment process.
For more than 30 years, RWSA has been using a corrosion inhibitor product as part of its drinking water treatment process.  In December, RWSA will upgrade its corrosion inhibitor as a purely proactive measure – with the approval of the Virginia Department of Health – to ensure current water treatment technology is being utilized to protect the public.
RWSA's public drinking water has a long history of being significantly below federally regulated lead and copper levels. The upgrade will use a blended phosphate product to better protect water pipes and plumbing fixtures from internal corrosion, which can cause lead and copper to leach into drinking water.
To confirm there won't be any adverse effects from the transition to the new corrosion inhibitor, RWSA has completed extensive testing to verify the new product will be more effective and will not affect customers.  The transition to the new inhibitor will begin with the Crozet Water Treatment Plant in December 2019, followed by the Scottsville and urban area water treatment plants in early 2020.  A fact sheet has been created to answer questions relating to the new water treatment product.  It is attached.
For more information, please visit https://www.rivanna.org/rwsa-projects-map/corrosion-control-program/.