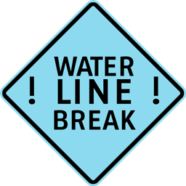 UPDATE from 12-18-19 @ 3:50pm  –  The water line has been repaired and is back in full operation. 
At approximately 8pm on Tuesday, December 17th, there was break in the raw water line that transmits water from the Beaver Creek Reservoir to the Crozet Water Treatment Plant. Rivanna Water and Sewer Authority crews, along with crews from the Albemarle County Service Authority, were dispatched to the site and have begun the process of repairing the water line.
The break occurred between the intersection of Browns Gap Turnpike and Old Three Notch'd Road and Route 240. Please avoid this area, if possible.
We are also asking the Crozet community to conserve and be mindful of water use today, as crews work as quickly as possible to repair the line and restore full service to the water treatment plant. The repair is expected to be complete by 4pm.