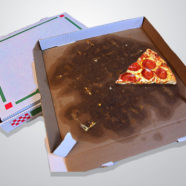 What should you do with that old pizza box?
It looks like good cardboard for recycling and it's only a little (or a lot) greasy from the pizza or wings…
The McIntire Recycling Center is now able to accept used pizza boxes for composting.  All you have to do is remove any containers of seasoning or sauces, and any plastic windows or pizza savers (that little plastic triangular legged device that keeps your pizza from getting smashed on the boxes lid; https://en.wikipedia.org/wiki/Pizza_saver).
Then fold the box up and place it into the compostable food waste container next to the cardboard recycling bin (look for the signs).  Our compostable food waste collection contractor can now take greasy cardboard, and it will be composted along with our compostable food waste.