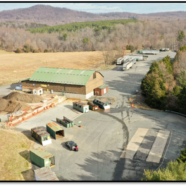 Bulk compost is for sale at the IMUC at a price of $75 per ton.
This compost material, SoilBuilder™, produced by McGill Environmental Systems, is an industrially produced, premium compost material that has been carefully screened and produced to meet the US Composting Council's Seal of Testing Assurance Program.  This material comes from McGill's Waverly, Virginia facility which is where compostable food waste from the McIntire Recycling Center and biosolids from the Moores Creek Advanced Water Resource Recovery facility are composted.
More information on this compost may be found at www.mcgillsoilbuilder.com.