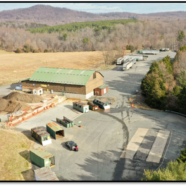 Mulch for your home and landscaping needs is back in stock at the Ivy Material Utilization Center, located at 4576 Dick Woods Road, Charlottesville, VA.   The cost is $30 per ton. The Ivy MUC is also offering compost for $75 per ton (there are approximately two cubic yards in a ton of compost).  Both products are available for bulk loading onto your truck or trailer.
The mulch is ground from vegetative waste at the Ivy MUC, and the SoilBuilder compost material is from the McGill Environment facility in Waverly, VA. SoilBuilder is made of 100 percent recycled content including the compostable food waste materials collected at RSWA's McIntire Recycling Center.  Compost provides long-term nutrient and water retention benefits for lawn and garden applications.  SoilBuilder is certified under the U.S. Composting Council's "Seal of Testing Assurance" program.
For more information on McGill's compost, please visit: https://mcgillcompost.com/mcgill-compost-products/mcgill-soilbuilder-compost.
For more information on the programs offered at the Ivy MUC, please visit: https://www.rivanna.org/ivy-material-utilization-center-muc/