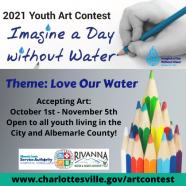 FOR IMMEDIATE RELEASE
OCTOBER  1, 2021
Local Water Organizations Host Annual Imagine a Day without Water Art Contest
CHARLOTTESVILLE, VA – THE CITY OF CHARLOTTESVILLE (CITY), ALBEMARLE COUNTY SERVICE AUTHORITY (ACSA), AND RIVANNA WATER & SEWER AUTHORITY (RWSA) WILL JOIN FOR THE SEVENTH ANNUAL "IMAGINE A DAY WITHOUT WATER" NATIONAL CAMPAIGN TO EDUCATE AND INSPIRE THE COMMUNITY ABOUT THE VALUE OF WATER IN OUR EVERYDAY LIVES.
Each year, the City, ACSA, and RWSA ask youth to artistically show the community why we must value and save water as part of a national campaign to "Imagine a Day Without Water". This year's art contest has been modified once again to allow for more flexibility during COVID-19 to provide the youth in the community with an opportunity for them to illustrate their love for water.
The 2021 Imagine a Day without Water Art Contest is asking youth to consider this year's theme of "Love Our Water" in their artistic creations. Art submissions will be accepted starting on October 1st in anticipation for the National Imagine a Day Without Water day on October 21st. The contest will be open to all youth in grades K – 12th living in the City of Charlottesville and Albemarle County. Submissions must be original, 2-D creations but can be any size and may include photography.
All Imagine a Day without Water art entries must be submitted by November 5th. Submissions will be accepted via direct mail to the Charlottesville's Department of Public Works (305 4th St. NW, Charlottesville, VA 22903) or electronically through our submission and online voting platform. In addition, there is an opportunity to drop off entries in-person at the Jefferson-Madison Regional Library's Central, Northside, and Crozet Branches during their hours of service.
Last year's contest was a huge success bringing in 120 entries, and we hope to see increased participation throughout the community this year. There will be cash prizes awarded to the finalists in different age categories and a fan favorite will be selected by the community (online voting available November 15th through 24th). Winners will be announced via press release on December 8th. Four teachers will also be honored for their support of the contest and campaign through a random drawing.
"We are so excited to host our annual Imagine a Day without Water art contest for youth," said Jill Greiner, the City's Water Efficiency Program Coordinator. "We have strived to make the contest as accessible as possible while COVID-19 is still impacting our community, and we hope the youth continue to amaze us with their artistic talents, showing us their love for water and communicating why it is important to conserve water."
For more information about the Imagine a Day without Water Art Contest including full contest rules and official entry form, visit www.charlottesville.gov/artcontest.
More background information about the Imagine a Day without Water campaign can be found here: http://imagineadaywithoutwater.org.
Media Contact
Jill Greiner
Water Efficiency Program Coordinator
City of Charlottesville
434-970-3877
greinerj@charlottesville.gov