Welcome to the Rivanna Education Center
The staff at Rivanna is dedicated to improving environmental awareness through education and community outreach. By working closely with our counterparts at the City of Charlottesville and Albemarle County, our goal is to provide, not only high-quality services to the community, but also be a valuable resource for education.
These links are being provided as a convenience and for informational purposes only; they do not constitute an endorsement or an approval by the Rivanna Authorities of any of the products, services or opinions of the corporation, organization, or individual. Rivanna has vetted each link and site to the best of its ability to ensure accurate information is being represented; however, Rivanna bears no responsibility for the accuracy, legality or content of the external site or for that of subsequent links. Contact the external site for answers to questions regarding its content.
---
Education Center Blog
To read past posts, please visit: https://www.rivanna.org/category/education/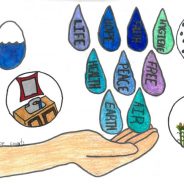 Could you go a day without water? No water to drink or use to make food. No water to shower, flush the toilet, or brush your teeth. Firefighters couldn't put out fires, pools would be closed, and farmers couldn't water their crops. 2018 Theme: How do you save water? Water is essential for life. You need water for everything from brushing your teeth, growing the food you eat, and making the things you use everyday. Why is water important to you and how do you save water? 2018 Imagine a Day without Water Important...
read more