Welcome to the Rivanna Education Center
The staff at Rivanna is dedicated to improving environmental awareness through education and community outreach. By working closely with our counterparts at the City of Charlottesville and Albemarle County, our goal is to provide, not only high-quality services to the community, but also be a valuable resource for education.
These links are being provided as a convenience and for informational purposes only; they do not constitute an endorsement or an approval by the Rivanna Authorities of any of the products, services or opinions of the corporation, organization, or individual. Rivanna has vetted each link and site to the best of its ability to ensure accurate information is being represented; however, Rivanna bears no responsibility for the accuracy, legality or content of the external site or for that of subsequent links. Contact the external site for answers to questions regarding its content.
---
Education Center Blog
To read past posts, please visit: https://www.rivanna.org/category/education/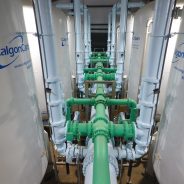 A year after the first Granular Activated Carbon (GAC) filter went into operation as part of the drinking water treatment system for the Charlottesville/Albemarle area, the Rivanna Water and Sewer Authority would like to celebrate its success. The road to install GAC contactors at our five largest water treatment plants has been a long one. In 2006, the US Environmental Protection Agency (EPA) updated regulations related to disinfection byproducts (DBPs) in drinking water, making the removal requirements more stringent. DBPs can form when...
read more