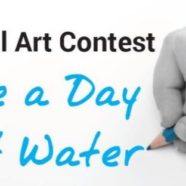 When:
August 28, 2019 @ 3:00 pm – 5:00 pm
2019-08-28T15:00:00-04:00
2019-08-28T17:00:00-04:00
Where:
The Shops at Stonefield
US-29 & Hydraulic Rd
Charlottesville, VA 22901
USA

This year for our Imagine a Day without Water (IADWW) Art Contest we are holding a kickoff event on August 28th! The event will be held at the field at the Shops at Stonefield.
There will be information on our public water utilities and water sources, free giveaways to help you save water, and music entertainment provided by 106.1 the Corner!
We are also excited to announce that the City of Charlottesville, Albemarle County Service Authority, and Rivanna Water & Sewer Authority are holding the 5th annual Imagine a Day without Water Art Contest.
The goal of this contest is to educate Charlottesville and Albemarle students about the importance of water, why it is important to conserve and keep it clean.
The theme of this year's contest is "Only Use What You Need".
New this year, the contest is now open to all students in the City of Charlottesville and Albemarle County in Grades K through 12th!
The contest starts on August 28th, with artwork due on  October 23rd.
Check out the City's Water Conservation website for more details.