Serving the businesses and citizens of Albemarle County and the City of Charlottesville, the Rivanna Water & Sewer Authority and its employees provide treatment, storage and transmission of quality drinking water and collection and treatment of wastewater.  The Rivanna Solid Waste Authority and its employees provide municipal and household hazardous waste disposal and recycling opportunities to the community.
The Rivanna Water and Sewer Authority and Rivanna Solid Waste Authority are equal opportunity employers.
We encourage you to explore the job opportunities listed below:

Applying for a job with us
Available openings and job descriptions can be found above.  To view a job description, select a job and use the "Click here for full job description" link provided at the bottom of the page.
An employment application must be completed and submitted for the position you are interested in.  Incomplete applications or applications that state "See Resume" will not be considered.  If you wish to provide a resume and/or supplemental information, you may do so by attaching to the completed application.  Please review the Authority's General Information for Applicants, Equal Opportunity/Affirmative Action Statement, and the Employee Benefits Overview (see below).  Applications remain active for a period of six months from date received.  After that time, a new application must be submitted.
---
1- Apply online
The Authority online employment application process consists of seven sections, all of which must be completed.  Your information will be saved as you progress through the application.  However, if you close the browser page before submitting, your information will be lost. While completing the application you may use the "Previous" button to return to prior pages.  The application is not complete until you click "Submit" and the confirmation message is displayed.
Complete the online application.
---
2- Email, mail or hand deliver
Complete the fillable PDF Employment Application (download the free Adobe Acrobat Reader).  You must download and save the application in order to enable the fillable feature. When complete, email to info@rivanna.org.
An employment application may also be picked up from the Administration Building. Completed applications can be hand deliver or mailed to 695 Moores Creek Lane, Charlottesville, VA 22902.
---
Benefits
Virginia Retirement System (VRS)
Anthem Blue Cross/Blue Shield
Health Savings
Anthem Dental
Anthem Vision
Minnesota Life Insurance
Optional Coverage through AFLAC
Optional ICMA/RC
Optional Gym Membership Discounts
Optional Legal Services
Employee Benefits Overview
Generally, eligibility for benefits is the first of the month following thirty-days of employment.
Medical, Dental and Other Health Related Benefits
The Authority offers health insurance through Anthem and the employee may select from a High Deductible Health Plan (HDHP) or a traditional Point of Service Plan.  Employee Only, Employee and Child; Employee and Children; Employee and Spouse; and Employee and Family coverage options are available.
The HDHP carries with it components that include a Health Savings Account (HSA) and a Health Reimbursement Arrangement (HRA).  Both employer and employee can contribute to a HSA and those monies can be used to meet any eligible health care expense and assist with the higher deductibles.  The employee can defer pre-tax dollars into the HSA.
The Health Reimbursement Arrangement (HRA) is the Authority's promise, after certain eligibility requirements, to reimburse the employee up to a specified dollar amount for deductible expenses for claims incurred in-network.
The Authority offers dental insurance through Anthem.  The Authority pays in full for all its employees to have vision coverage through Anthem Vision.
Click here to view 2021 – 2022 Employee Rate Sheet (pdf)
Voluntary Cancer/Accident/Disability Insurance is available at a monthly premium cost to all regular employees. Coverage is offered for individual/family inpatient or outpatient cancer claims, as well as accident and disability claims. Intensive Care and Short-Term Disability coverage are also available.
Life Insurance
Group Life Insurance through the Virginia Retirement System/Minnesota Life pays double the employee's annual creditable compensation for natural death; quadruple for accidental death at no cost to employee. Additional life insurance may be purchased by the employee for the employee and employee's family members at the Authority's group rate.
Retirement Benefits
Participation through the Virginia Retirement System (VRS) is required. The Authority pays a percentage, determined by VRS bi-annually, of the employee's annual creditable compensation. The employee is required to contribute a pre-tax amount equal to 5% of their creditable compensation. Vested rights in this system occur after 5 years of membership. http://www.varetire.org
Flexible Benefit Plan
This program allows eligible Authority employees to take a voluntary salary reduction and then use those pre-tax dollars to pay for many medical and dependent care expenses that are currently being paid for with after-tax dollars.
Tax Deferred Compensation
This program allows eligible employees to save by payroll deduction in plans that allow you to reduce your taxable salary while earning tax sheltered interest.
Employee Assistance Program
This program is free to all employees and their families.  It provides a wide range of resources to help employees overcome personal issues or concerns.
Fitness Club
Fitness Club Memberships are offered at a reduced price to regular employees and their families.
Legal Resources
Employees can purchase comprehensive legal coverage on a broad range of services for an affordable low monthly rate.
Sick Leave
Accrue 8 hours per month.  Employees that participate in the VRS Hybrid retirement plan are provided, at the Authority's cost, with short-term and long-term disability coverage. All employees have an option to join the Sick Leave Bank. The Sick Leave Bank is designed to help an employee through an extended illness, should the employee not have accrued leave available.
Vacation Leave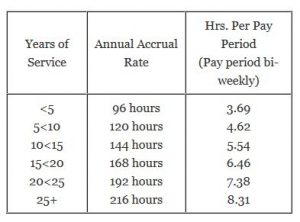 Holidays
New Year's Day
Martin Luther King, Jr. Day – Floating Holiday
Presidents' Day – Floating Holiday
Memorial Day
Juneteenth – Floating Holiday
Independence Day
Labor Day
Veterans Day – Floating Holiday
1/2 before Thanksgiving
Thanksgiving Day
Day after Thanksgiving
Christmas Eve
Christmas Day