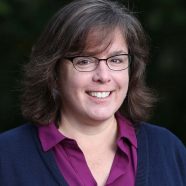 Andrea Bowles originally joined Rivanna as Watershed Manager in 2004 until 2008, then returned to the Authority as Water Resources Manager in December 2011. Andrea is responsible for all RWSA activities upstream of our dams.  She focuses on reservoir water quality, manages our reservoir sampling program, and coordinates with our sister agencies on crucial watershed issues.  In addition, Andrea provides support to our managerial team on environmental permitting and acts as a liaison with other environmental organizations in our community.
In the past, Andrea has worked as an Environmental Scientist in the consulting industry and as an Environmental Planner for a Virginia Planning District Commission.
When Andrea is not out and about on our reservoirs or working in our streams, she loves spending time outdoors.  She enjoys traveling, hiking and fishing, sewing and reading.