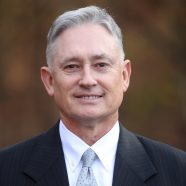 Bill Mawyer joined Rivanna  in November 2016 as the Executive Director of both the Rivanna Water and Sewer Authority and the Rivanna Solid Waste Authority.
Previously Bill was the Assistant Director of the Public Utilities Department in Henrico County, Virginia for 15 years.  In this position, he was responsible for the treatment of drinking water and wastewater, as well as refuse and recycling services, for the 320,000 residents of Henrico County.   Bill has an undergraduate degree in Civil Engineering from the University of Virginia, a Masters Degree in Business Administration from Averett College, and is a licensed professional engineer in Virginia. Bill grew up in the North Garden area of Albemarle County and is a graduate of Albemarle High School.
"At Rivanna, we have a dedicated team of employees who value integrity, teamwork, respect and quality.   We work very hard to provide our customers with high quality, reliable and cost-effective drinking water,  as well as environmentally responsible wastewater treatment, refuse disposal and recycling services, all to maintain the high quality of life enjoyed by this community."
Bill's career extends over 40 years and includes service with the Naval Facilities Engineering Command in Norfolk, Facilities Management at the University of Virginia, and the Engineering and Public Works Department in Albemarle County.
Bill's wife is a retired public school teacher.  They have one adult daughter and two adult sons.   Bill enjoys traveling, playing golf and supporting UVA athletics.