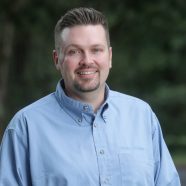 David joined Rivanna as the Assistant Solid Waste Manager in 2016. In that position he assisted in coordinating and managing all recycling and waste management planning and operations for the RSWA. Now as RSWA Manager, David is responsible for all operations at the three facilities owned/operated by the Authority. He oversees our bi-annual Household Hazardous Waste and Bulky Waste Days, McIntire Center recycling, Ivy Encore Shop, and the Paper Sort facility as well as the post-closure care and maintenance of the Ivy Landfill.
Prior to coming to Rivanna, David served as Operation Supervisor for Republic Services in Durham, NC.  David bring over 19 years of experience in the Solid Waste field.  David attended Liberty University, and Southeastern Baptist Theological Seminary. David has served as an Ordained Pastor with the Southern Baptist Association since 2012.
David enjoys spending his free time serving in a Motorcycle Ministry, working on cars with his kids, and spending time with his wife.