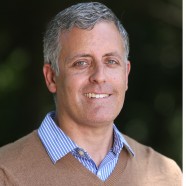 Dave Tungate is the Director of Operations.
Dave Tungate joined Rivanna as the Water Manager in 2012. As the water manager, he was responsible for all municipal drinking water production in Albemarle County. Now, as the Director of Operations, he manages the Water, Wastewater, and Laboratory Departments.
Prior to coming to RWSA, Dave spent 15 years working at the South Bend Water Works in South Bend Indiana. He started his career there as the water quality specialist and was eventually selected to become the Water Utility Director.
Dave Tungate was recently appointed to the American Water Works Association's Activated Carbon Committee.
When Dave is not keeping the water running, he is busy spending time with his family and following the Pittsburgh Steelers and Penguins.