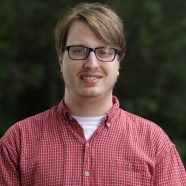 Dr. Bill Morris joined Rivanna in 2017 as the Laboratory Manager. Bill oversees the laboratory, which is responsible for performing many tests on both drinking water and waste water as well as maintaining and analyzing data for the Authority.
Bill earned his Bachelor of Science degree in chemistry from the University of North Carolina Wilmington in 2011 and then moved to Charlottesville to begin work on a PhD in materials chemistry at the University of Virginia. Upon completion of his degree in 2016, Bill took a post-doctoral research position in chemical engineering at UVA. He spent a year developing reverse osmosis polymer membranes for desalination of water and become interested in pursuing water treatment as a career leading him to his current position at Rivanna.
When Bill is not looking over data or analyzing samples, he enjoys playing drums with the local Charlottesville/Crozet roots rock band, Lightning Road. He also volunteers as a Krav Maga adult self-defense instructor in Charlottesville.