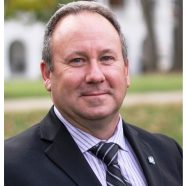 Jeff Southworth joined Rivanna Authorities as the Information Technology Manager in February 2022 to provide leadership and continue the success with the IT Team.  He will oversee a team of  IT professionals who build and maintain the IT infrastructure.
Jeff is an Information Technology professional with over 23 years of dedicated expertise. Jeff graduated from ECPI with an AAS/IST Degree and has a Network+ Certification. He began his IT career at a small Marketing Educational firm in Roanoke, Virginia and has experience ranging from non-profit organizations and Health Systems to large public industries.
When Jeff is not working, he enjoys outdoor adventures including skydiving, hang gliding, zip-lining, and traveling to historical places.