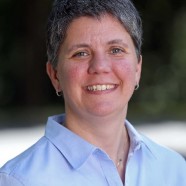 Jennifer Whitaker is the Director of Engineering & Maintenance.
Ms. Jennifer Whitaker joined Rivanna Water & Sewer Authority in Charlottesville, Virginia as Chief Engineer in August of 2003. In this role she has overseen an aggressive $265 million Capital Improvement Program, construction inspection, development design review, GIS implementation,  utility locating, and technical assistance to the operating arm of the Authority. Additionally, Jennifer serves as the Authority's Dam Safety Engineer.  During her time at Rivanna, Jennifer has been pivotal in the permitting, design, and construction of the New Ragged Mountain Dam and the Enhanced Nutrient Removal system at the Moores Creek Advanced Water Resource Recovery Facility. Jennifer currently leads a team of 8 staff members.
Throughout her 20-year career, Jennifer has led planning efforts, as well as implementation of projects in infrastructure renewal and improvement, water supply, water system hydraulics and dam operation and safety. Jennifer's background in emergency planning and management allow her to coordinate regional dam safety education and mitigation efforts.  Ms. Whitaker currently serves as a Practitioner Advisor for the student chapter of the American Society of Civil Engineers (ASCE) at the University of Virginia.  
Prior to coming to Rivanna, Ms. Whitaker served as the Assistant City Engineer for the City of Charlottesville and was a Project Manager in the engineering consulting industry with Gannett Fleming in Richmond and Newport News, Virginia. Ms. Whitaker earned her Bachelor of Science in Civil Engineering from the University of Virginia and is a registered Professional Engineer in the Commonwealth of Virginia.
Outside of work, Jennifer loves to spend time with her family and friends enjoying the endless outdoor recreational possibilities in Charlottesville.