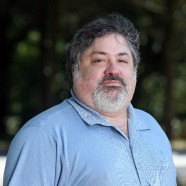 Steven Miller joined Rivanna as the Information Systems Administrator in May of 1999.  Steven is responsible for the Authorities wide area and local networks, all of the computer hardware and most of the software that makes Rivanna work.
Steven has a Bachelor of Engineering degree from Stevens Institute of Technology and a Juris Doctorate from Rutgers School of Law.  He has been a member of the Virginia bar since 1986.
Prior to coming to Rivanna, Steven was head of hardware at one of the first Internet Service Providers in Virginia (Commetnet) and worked as a consultant for OFM computers here in Charlottesville.
When not hard at work keeping the information flowing at Rivanna, Steven is the computer consultant for the Jefferson Swim League, a youth league with over 2400 swimmers.