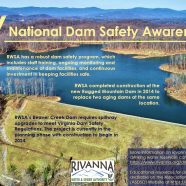 RWSA has a robust dam safety program, which includes staff training, ongoing monitoring and maintenance of dam facilities, and continuous investment in keeping facilities safe.
RWSA completed construction of the new Ragged Mountain Dam in 2014 to replace two aging dams at the same location.
RWSA's Beaver Creek Dam requires spillway upgrades to meet Virginia Dam Safety Regulations. The project is currently in the planning phase with construction to begin in 2024.
More information on Rivanna Water & Sewer Authority (RWSA) drinking water reservoirs can be found on our website at https://www.rivanna.org/drinking-water-reservoirs/
Educational resources for dam owners and the public are available on the Association of State Dam Safety Officials (ASDSO) Website at https://damsafety.org/NDSAD