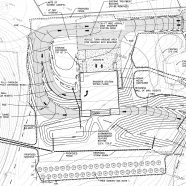 ##Press Release##
New Ivy Transfer Station Groundbreaking
Charlottesville, VA – November 15, 2017
Rivanna Solid Waste Authority is excited to announce that construction is beginning for the new Ivy Transfer Station. A groundbreaking ceremony will be held on Friday November 17, 2017 at 10:00 am. The Ivy Transfer Station is located at 4576 Dick Woods Road, Charlottesville, VA 22903.
Rivanna's Chairman of the Board of Directors Mike Gaffney, Executive Director Bill Mawyer, Albemarle County Board of Supervisors member Dr. Liz Palmer, and local businessman Mr. Randy Layman will deliver remarks, with the groundbreaking to follow. This event will be held rain or shine.
The new 11,600 square foot transfer station is designed to meet all regulatory requirements for municipal refuse disposal and will include space for future recycling services. The new facility will be located on the western portion of the Ivy Material Utilization Center site and will continue to use the existing entrance and scales. The existing transfer facility and compactor system will remain in service until the new transfer station is placed into service, at which time the existing facility will be decommissioned and removed. Lantz Construction Company of Broadway, VA is the general contractor for this project. Completion is expected by December 2018 and costs will total $3 million.
Rivanna Solid Waste Authority is dedicated to protecting and improving the environment by providing the recycling, refuse, household hazardous waste disposal services for the Albemarle-Charlottesville community.
CONTACT: Ms. Katie McIlwee, Communications Manager
Rivanna Solid Waste Authority
(434) 977-2970 Ext. 116