Welcome to the Rivanna Education Center
The staff at Rivanna is dedicated to improving environmental awareness through education and community outreach. By working closely with our counterparts at the City of Charlottesville and Albemarle County, our goal is to provide, not only high-quality services to the community, but also be a valuable resource for education.
These links are being provided as a convenience and for informational purposes only; they do not constitute an endorsement or an approval by the Rivanna Authorities of any of the products, services or opinions of the corporation, organization, or individual. Rivanna has vetted each link and site to the best of its ability to ensure accurate information is being represented; however, Rivanna bears no responsibility for the accuracy, legality or content of the external site or for that of subsequent links. Contact the external site for answers to questions regarding its content.
---
Education Center Blog
To read past posts, please visit: https://www.rivanna.org/category/education/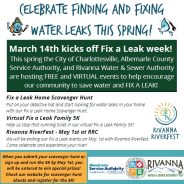 March 14th kicks off Fix a Leak week! This spring the City of Charlottesville, Albemarle County Service Authority, and the Rivanna Water & Sewer Authority are hosting FREE and VIRTUAL events to help encourage our community to save water and FIX A LEAK! When you submit your scavenger hunt or sign up and run the Family 5K by May 1st, you will be entered to win special prizes!  More information: www.Charlottesville.gov/FixALeak      and       ServiceAuthority.org
read more