Click the image above for a complete list of items accepted at McIntire Recycling CenterRecycling Aluminum Beverage Cans at McIntire
611 McIntire Rd, Charlottesville, VA 22902
Phone: (434) 977-2976
Regular Hours of Operation
PLEASE DO NOT DROP OFF MATERIAL WHEN WE ARE CLOSED
Eastern Standard Time: November to March (current hours)
Mon 8:30am-5:30pm
Tuesday – CLOSED
Wed-Sun 8:30am-5:30pm
Eastern Daylight Time: March to November
Mon 8:30am-6:30pm
Tuesday – CLOSED
Wed-Sun 8:30am-6:30pm
2020 Holiday Closings: 
New Years' Day – Jan 1    
Memorial Day – May 25   
Independence Day – Jul 4   
Labor Day – Sep 7   
Employee Appreciation Day – Oct 29 (1/2 Day)   
Thanksgiving Day – Nov 26   
Christmas Day – Dec 25
Directions
Need help finding the McIntire Recycling Center in Charlottesville?  Click our Directions page.
Recyclables Accepted
For a full list of recyclable items accepted at each facility, please visit the Recyclable Accepted page.
Styrofoam is NOT accepted at any recycling location. 
---
Program Services
Click here for our McIntire Recycling Center Brochure.
Household Food Waste Compost Drop Off
What you need to know:
Compostables must be brought in compostable bags (not regular plastic trash bags).  Good news: we have free three gallon compostable bags on site.  You can also find the bags (brand name "Biobags") at Kroger, Whole Foods, and Bed, Bath & Beyond.
Additional Information:
NO YARD WASTE will be accepted.
NO COMMERCIAL FOOD WASTE or NON-COMPOSTABLES will be accepted.
Pizza boxes are accepted as part of the food composting program, but they must be placed in a separate bin.
Questions about acceptable items or how to compost?  Visit our Composting FAQ page
Learn more about composting from the City of Charlottesville's Composting Program
Pizza Box Composting
The McIntire Recycling Center is now able to accept used pizza boxes for composting.  Our compostable food waste collection contractor can now take greasy cardboard, and it will be composted along with our compostable food waste.
To compost:
Remove all contents

seasoning packets
sauce containers
plastic windows or pizza savers (that little plastic triangular legged device that keeps your pizza from getting smashed on the boxes lid; https://en.wikipedia.org/wiki/Pizza_saver).

Fold the box up and place it into the compostable food waste container next to the cardboard recycling bin (look for the signs).
Oyster Shell Recycling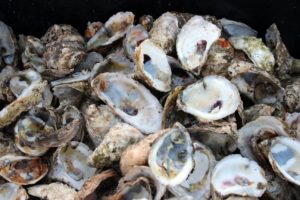 McIntire Recycling Center is the new home for the collection of oyster shells in the Charlottesville/Albemarle area.  This collection point, which is open to the public as well, will collect oysters from restaurants and homes to be recycled back into oyster habitat in the Chesapeake by the Virginia Oyster Shell Recycling and Restoration Program (VOSRP).
The Book Exchange Bin
McIntire's Book Exchange Bin is located at the north end of the McIntire Road Recycling Center.
Please bring books to the Book Exchange Bin that are in good to great condition. We cannot accept water damaged or moldy books. If you have water damaged books, they can be recycled at the McIntire Road Recycling Center, in the newspaper bin. Space is limited, so please limit the number of text books and encyclopedias accordingly.
To help the exchange run smoothly, efficiently, and safely for everyone, we ask that the following rules be followed:
Only books are accepted at the Book Exchange Bin.

Do not leave other items, such as furniture, electronics, etc., if you have items that are in good shape, but are no longer wanted, please consider taking them to the Encore Shop at the Ivy MUC.

Please limit the amount of books you take home to

less than ten books per visit

.
Please limit your stay to one 30 minutes visit per day.
Please be respectful of all McIntire patrons and staff.
Only RSWA Staff are permitted to assist with loading and unloading.
No Loitering.
Thank you for your help in making the book exchange a great experience for all!