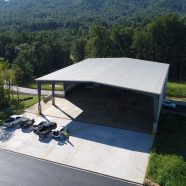 Charlottesville, VA – December 14, 2018
Effective January 1, 2019, the fees for Domestic Municipal Solid Waste (MSW) and Construction & Demolition Debris (CDD) will be reduced from $66.00 to $52.00 per ton at the Ivy Material Utilization Center, located at 4576 Dick Woods Road, Charlottesville VA, 22903.
The reduced tipping fees are consistent with the average tipping fees for transfer stations in neighboring counties. This rate reduction was approved by the Rivanna Solid Waste Authority Board of Directors on December 11, 2018 and was the only change made to the Rate Resolution.
Please see below for the full rate resolution, effective January 1, 2019.
TIPPING FEES PER TON:
TIPPING FEE PER ITEM:
Clean Fill Material
$10.00
Freon Appliances
$17.00
Pallets
$48.00
Non-Freon Appliances
$9.00
Vegetation/Yard Waste
$48.00
Passenger Veh. Tire (off Rim)
$6.00
Non-Freon Appliances
$105.00
Passenger Veh. Tire (on Rim)
$13.00
Domestic Waste (MSW)
$52.00
Large Truck Tire (off Rim)
$17.00
Construction Debris (CDD)
$52.00
Large Truck Tire (on Rim)
$33.00
Compostable Waste
$178.00
     (Businesses Only)
Tires
$190.00
OTHER CHARGES:
Minimum Charge (per load)
$6.00
Service Fee Per ticket:
Mulch or Lumber Log (per ton)
$30.00
     Albemarle County Customers
$1.00
Trash Stickers (for set of 12)
$24.00
     Other Customers
$10.00
Ticket Request (per copy)
$1.00
Hauling Fee Per Load (based on Location):
Credit Application Fee (each)
$35.00
     Minimum
$100.00
     Maximum
$142.00
Rivanna Solid Waste Authority is dedicated to protecting and improving the environment by providing recycling, composting, refuse, and waste disposal services. RSWA assists thousands of County and City residents each year with their recycling, solid waste, and household hazardous waste disposal.