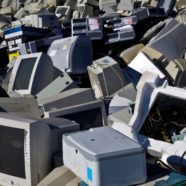 Rivanna Solid Waste Authority will host an electronic waste collection day on Saturday, October 26, 2019 from 9 am to 3 pm at the Ivy Material Utilization Center, 4576 Dick Woods Road, Charlottesville, VA 22903. During this program, residents of the City of Charlottesville and Albemarle County will be able to dispose of e-waste for free.
To participate, residents must preregister for this event. Registration will begin on Tuesday, October 1st at 8:00 am. Participants will be asked to register for a specific time window. Once the time slot has filled, a confirmation email will be sent to those participants. There are 87 spaces per time window.
Rules for the event are as follows:
No more than 10 total items per registrant.
No more than 2 tube-style televisions or monitors per registrant.
Registrants must select a preferred time window. Final times will be included in the registration confirmation email.
Only electronic waste will be accepted (computers/laptops and accessories, printer/scanner/fax machines, VCRs, stereos, televisions)

Appliances and other types of electronics (hair dryers, vacuums, etc.) will not be accepted.
For full details and to register for this event, please visit: www.rivanna.org/ewaste