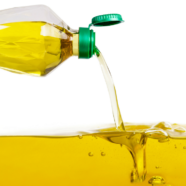 The Rivanna Solid Waste Authority is pleased to announce it is expanding services at the McIntire Recycling Center (MRC). Through a partnership with Five Star Septic Inc., RSWA is offering a Used Cooking Oil (UCO) collection program. Visitors may now dispose of used, liquid cooking oil and grease at the MRC.
Five Star Septic has provided a 300-gallon sealed container, located next to the MRC entrance, where customers can dispose of UCO and grease. Containers that customers use to bring UCO to MRC should be taken home for reuse or disposal. Five Star Septic will collect the container for regular servicing, and the UCO and grease will be recycled for beneficial reuse, such as to manufacture biofuels or to be processed into animal feeds. This collection will help keep fats, oils, and greases out of the City of Charlottesville and Albemarle County Service Authority sewer systems, where they can cause expensive clogs and backups.
Solidified (no longer liquid) fats and greases will continue to be accepted at the MRC, and at the Ivy Convenience Center in the compostable food waste collection containers. Motor oils and antifreeze are collected for free at the Ivy Convenience Center; they cannot be disposed of in the UCO container or the compostable food waste collection containers.
The McIntire Recycling Center is located at 611 McIntire Road, Charlottesville VA and is open Wednesday through Monday from 8:30am to 5:30pm (beginning March 8th, MRC will be open until 6:30pm). The Ivy Material Utilization Center is located at 4576 Dick Woods Road, Charlottesville, VA 22903 and is open Monday through Friday from 7:30am to 4pm and Saturday from 8:30am to 4pm.
For more information, please visit: https://www.rivanna.org/mcintire-recycling-center/