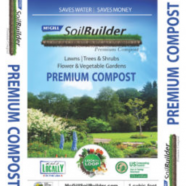 Charlottesville, VA—March 25, 2021
In order to say THANK YOU to our customers of the McIntire Recycling Center, and kick off the Spring planting season, RSWA will be giving away 40-pound bags of McGill Soilbuilder Compost free to the first 300 customers on Saturday, April 10, 2021 (8:30am to 5:30pm), while supplies last.
McGill is one of our compostable food waste partners, and processes all the food waste collected at McIntire.  This compost material is recycled from a variety of vegetative green waste, untreated wood waste, biosolids, agricultural by-products, and food waste, and is certified with the Seal of Testing Assurance by the Composting Council.  It is a great addition to provide nutrients to grasses and plants, increase soil organics, retain moisture, and improve soil structure.
The McIntire Recycling Center is located at 611 McIntire Road, Charlottesville, VA 22902. Staff will be available to help customers carry bags to their vehicles.
For more information on the programs offered at the McIntire Recycling Center, please visit: https://www.rivanna.org/mcintire-recycling-center/
CONTACT:   Phil McKalips, Director of Solid Waste
Rivanna Solid Waste Authority
                      (434) 977-2970 Ext. 145