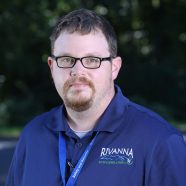 After earning his B.S. from Ferrum College in 2009, Daniel followed the same path as his Dad and began his career in Water Treatment as an operator for the City of Staunton Dept. of Public Works. In 2014, he was selected to be the Water Treatment Plant Supervisor and Lab Director where he served for four years.
Daniel joined the RWSA Water Department as a Supervisor in 2018. As a Supervisor, he was responsible for overseeing the operations staff and daily plant performance at our six drinking water facilities. Most recently in 2021, Daniel became the Water Manager where he is now responsible for all municipal water treatment production for Albemarle County and the City of Charlottesville.
Outside of work, he loves spending time with his family and friends and enjoys working on his golf game, which despite years of practice, never seems up to par.