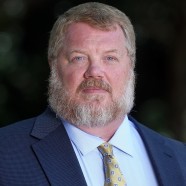 Phil McKalips joined Rivanna as the Environment and Safety Manager in March 2015 to provide support of compliance and remediation activities at the Ivy Material Utilization Center (Ivy MUC) and enhance efforts to provide a safe and healthy workplace.  In June 2018, Phil was selected as the new Director of Solid Waste where he can combine his long-term experience in the environmental management of the Ivy MUC with his knowledge of the Solid Waste Authority's expanding recycling services.  In his more than 30-year career in the environmental industry, he has managed large and small-scale projects for a variety of public and private organizations within the US and overseas.  Through this experience, Phil has developed specific expertise in environmental aspects of landfill closure and management, site characterization, geotechnical assessments, and worker health and safety.
Mr. McKalips is a professional geologist.  Prior to coming to Rivanna, Phil served as a Project Manager and Office Manager of a regional office of a private environmental consulting company. Earlier employment included working for a large international engineering and construction company where he had the opportunity to work in Europe, Africa, the Middle East, and Asia.
When Phil is not at work, he enjoys working on house projects, cooking (and eating), reading, and travel.